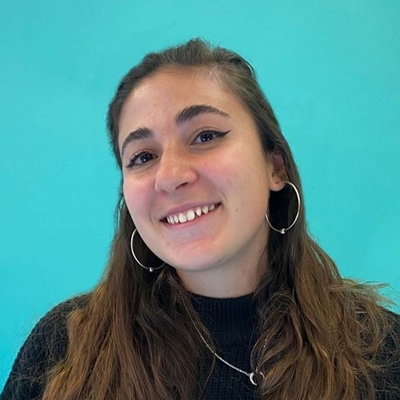 Über Ana Baturone:
I am a Graphic Designer focused on marketin, especially social media. I'm committed to help brand to stablish a brand strategy to hel them grown on different media channels, adapting trends to their identity and helping them to communicate on catchy and effective ways.

My values are:

Passion
Nothing helps better to keep people motivated. If I realy believe in a product or service I will give my100% to help them grown.

Keep learning
There is so much that I still don't know. I'm always curious about new ways to communicate, programs to help me to create better creativities, process to be more efficient and basically anything that catches my eye.

Teamwork
I'm a strongly believer of "The team work makes the dream work". That's why I love to works as a team as much as alone. I always lend a hand if any member of the team needs it and also I know when I need to ask for help. Creating good relatioships with people from all departments it's really important for me.
Erleben Sie
Graphic Marketing Designer 
StudySmarter
2021 - current
-Translating the brand identity into a diverse area of creative digital marketing materials for various departments.
-Taking part in the strategic marketing processes.
-Creating engaging content on different social media platforms, such as TikTok, Instagram, GoogleAds and YouTube .
-Designing marketing and sales materials in a fresh, modern, appealing way and adapting quickly to new trends -Helping through the creative process during the creation of social media campaigns.
Collaborate closely with all our sub-teams to ensure outstanding and aligned communication
Graphic Designer and Social Media Manager
PGRM company
2019 - 2020
Graphic Designer tasks:
-Execution of PowerPoint presentations through rich visual elements, data visualization, images, icons, and infographics.
-Working both within existing brand guidelines as well as taking an active role in the further development of our brand and guideline.
-Assist the execution of creative concepts.
Social Media tasks:
-Management of the company's social media accounts and posts content.
-Monitoring various social media platforms such as Facebook and Instagram.
-Creation of unique and creative content for existing social media platforms
-Creation and optimization of SEO content for multiple clients.
Graphic Designer Internship
The Pilot Dog Studio
March 2019 - June 2019
-Contribute with ideas and concepts for campaigns incl. videos, photo shoots and social media assets
-Collaborate with Art Directors and Copy Editors to deliver the final assets 
 
Bildung
2019-2020
NETT Digital School
Master in Marketing, Design and Web
2017-2019
Cádiz Art School
Professional Studies of Graphic Design
2013-2017
Seville University
Arts Bachellor
Fachkräfte aus demselben Telekommunikation-Sektor wie Ana Baturone
Fachleute aus verschiedenen Bereichen in der Nähe von Munich, Kreisfreie Stadt München, Oberbayern
Andere Benutzer, die Ana genannt werden
Jobs in der Nähe von Munich, Kreisfreie Stadt München, Oberbayern
---

Wilde & Partner Communications

München, Deutschland

PraktikumSHIP

Über Wilde & Partner Communications: · Wir gehören zu den 50 umsatzstärksten und erfahrensten Full Service Agenturen in Deutschland. Wir beherrschen die gesamte Bandbreite der Kommunikation und liebe ...

---

One Two Social

München, Deutschland

Ganztags

OneTwoSocial ist eine der führenden Agenturen in Deutschland für digitale Markenkommunikation mit Fokus auf Social Media. 60-köpfiges Team liebt kreativen Content und echtes Storytelling. Wir bilden d ...

---

EDAG Engineering GmbH

Munich, Deutschland

Ganztags/Nebenberuflich

Das sind wir: Zusammen arbeiten, zusammen wachsen, zusammen Neues schaffen: EDAG verbindet Mensch und Zukunft – hier teilen Unternehmen und Mitarbeitende die gleiche Vision. Auf hohem Niveau gehen Sie ...