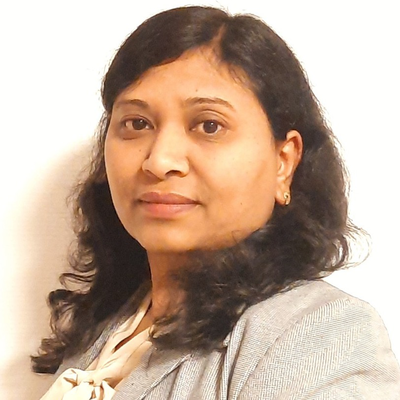 Über Hemlata Satankar:
Sehr geehrte Damen und Herren,
Ich interessiere mich sehr für diese Position. Aktuell arbeite ich bei der curexus GmbH als Scrum Master.  Ich habe 15 Jahre IT-Erfahrung und 6 Jahre Erfahrung als Projektmanager. Ich arbeite seit 11 Jahren in kundenorientierten Rollen.  Ich verfüge über ausgeprägte Präsentationsfähigkeiten, die eine effektive Kommunikation mit Kunden, Stakeholdern und dem Team ermöglichen. Ausgezeichnete organisatorische Fähigkeiten und die Fähigkeit, bei der Arbeit Prioritäten zu setzen, um Fristen einzuhalten.
Meine Muttersprache ist Hindi. Mein Englisch ist fließend und Deutsch ist auf B1-Niveau.
Ich bin zertifiziert in PRINCE2,  Scrum Master, ITIL und in IT Service Delivery. 
Ich habe Erfahrung in der Zusammenarbeit mit verschiedenen namhaften Organisationen - GE Healthcare, Accenture, Wipro, CSIL usw. – und bin mit allen gängigen Prozessen und Richtlinien bestens ausgestattet. Ich möchte meine bisherigen Erfahrungen und mein Fachwissen einbringen und mit meinen Qualifikationen und Bemühungen zum Erfolg beitragen.
Ich freue mich auf Ihre Einladung zum Vorstellungsgespräch.
Aufrichtig
Hemlata Satankar
Erleben Sie
curexus GmbH, Germany as Scrum Master 21/09/2020 – Till Date
• Point of Contact for the Process partners and key users, Incident Management and Request Management.
• Ensuring Agile ceremonies takes place and agile process is being followed, coaching agile values to the team, managing JIRA board, removing impediments.
• Project budget monitoring and control for 2 projects.
Technologies – Siebel IP 22.10, Oracle XP, SOAPUI, HTML Kompozer, ServiceNow, JIRA.
Wipro Technologies, Bangalore, India as Lead Consultant 09/01/2017 - 30/05/2019
01/02/2019 - 30/05/2019 Managed Hadoop & ETL Development Project as Agile PM
• Proficiently organized daily scrum, sprint reviews, retrospectives, sprint planning.
• Ensured the JIRA projects are updated with the latest backlogs, sprint, and task status.
• Worked closely with product owner to make the product backlogs relevant and prioritized.
• Ensuring acceptance criteria are agreed upon and stories are ready for sizing.
• Tracked the work by using the corresponding metrics: burn-down, velocity charts, etc.
Technologies – Hadoop, ETL, Ambari, Git, JIRA, Servicenow, MS Office, Confluence.
09/01/2017 – 31/12/2018 Managed Middleware Development & Infrastructure Support as a Sr. Technical Manager
• End to end project management of 30 team members, Portfolio management, Project roadmap, Writing SOW & Service catalogues, defining KPIs & SLA, Project Planning, Resource planning, standardizing the processes, execution & tracking, continuous improvements.
• Acted as a technical liaison between clients, stakeholders and service engineering teams.
• Governance meeting with the Wipro General Manager and Top management at client side and presented the monthly report.
Technologies – WebSphere WAS & MQ, Enov8 Ecosys, ServiceNow, Confluence, ServiceNow, JIRA.
Accenture Solutions Pvt. Ltd., Bangalore, INDIA as a Team Lead 17/11/2009 - 22/12/2016
18/08/2014 – 22/12/2016 Managed Salesforce project as a Technical Project Manager
• End-to-end accountability of Salesforce Development and Support Teams of 20 members.
• Co-ordination with Client, Interface team and other counterpart, Release planning and execution.
• Project planning, estimation, monitoring and tracking.
• Hosted team meetings with team for ticket status update. Weekly report to the management.
Technologies: Agile PM/Veeva CRM/Apex/Quilk/Siebel/Oracle 11g/VSS/MS Office/MS Project
17/11/2009 - 14/05/2014 Role: Siebel CRM Project Manager.
• Led the Siebel project teams of 20 team members for 2 Siebel applications for ANZ Bank.
• End-to-end project management for development team and Administration Team.
• Following up with various teams on the project milestones.
• Coordinated with client and stakeholders, handled escalations, presented weekly status report.
• Worked on Siebel administration, defect troubleshooting, continuous improvements and process standardization. Reduced 20% of effort through automation of admin activities.
Technologies: Siebel 8.X/Windows/Batch scripting/SQL/Oracle/SVN/SSL/MS office/MS Project/QC.
GE Medical Systems (India) Pvt. Ltd., Bangalore, India as a Systems Analyst 12/06/2006 - 13/11/2009
• Led Siebel administration team of 3 applications consisting of 10 members.
• Hosted team meetings for the weekly status. Presented monthly status report to the management.
• Led Process improvements and automations. Automated Release Migration, change management process workflow. Automated Siebel monitoring, Siebel SVN integration etc.
• Worked on Siebel administration activities – Installations, migrations, troubleshooting etc.
Technologies: Siebel CRM, JAVA, UCM/UNIX/Shell Scripting/Oracle 10g/CVS/Sitecore monitoring tool
Cranes Software International Ltd., Bangalore, India as a Software Engineer 16/08/2005 - 09/06/2006
• Implementation and Unit Testing of 3 modules for Systat12 product- Cluster Analysis, Quality Control, Mixed Regression
• Unit testing of 3 modules.
Technologies: C++ Development, XP Professional/VC++ 8.0 platform
Unique Computers, Ashoknagar, India as a Programmer cum Instructor 03/08/1998 - 29/01/2000
• Implementation of Pension module in FoxPro.
• Instructor for MS office, Windows, C, C++ languages.
Bildung
PROFESSIONAL QUALIFICATION
• 06/2003 – 05/2005 7.7 MTech (Information Technology), IIT, Roorkee, Uttarakhand, India
• 07/1993 – 08/1998 6.5 BE (Computer Science & Engineering), Barakatullah University, India
• 07/1992 – 06/1993 6.5 Higher School Certificate Examinations, MP Board, India
CERTIFICATIONS
• Certified Scrum Master.
• PRINCE2 certified.
• Certified Delivery management professional from Accenture & ISB.
• Certified ITIL 2011 professional.
• Professional training in Siebel, Salesforce, AWS, DevOps, Big Data Hadoop.
• Project management trainings: Scrum Master, MS Project, Six Sigma Yellow belt.
CRM Siebel IP16.18, Siebel IP21.6, Salesforce Lightning
Programming Languages C, C++, shell scripting
Operating System UNIX, Linux, MS-DOS, Windows 2003
RDBMS / GUI Oracle10g, Oracle XE, MS SQL 2005, MS SQL 2000
Web Servers Microsoft IIS, Weblogic
SCM SVN, CVS, PVCS, VSS, Clearcase
Tools JIRA, ServiceNow, HP QC, ALM, Confluence, MS office
Latest Technology exposure DevOps, Hadoop, AWS
LANGUAGE SKILLS English (Fluent), German (B1), Hindi (Mother Tongue)
Fachleute, die mit Hemlata konkurrieren
Fachkräfte aus demselben Technik / Internet-Sektor wie Hemlata Satankar
Fachleute aus verschiedenen Bereichen in der Nähe von Münchener Freiheit, Kreisfreie Stadt München, Oberbayern
Jobs in der Nähe von Münchener Freiheit, Kreisfreie Stadt München, Oberbayern
---

Materna

Munich, Deutschland

Project Manager IT-Strategie / IT-Management (m/w/d) · In unserem Familienunternehmen Materna mit weltweit mehr als 3.500 Mitarbeitenden schaffen wir seit über 40 Jahren jeden Tag neue Softwarelösunge ...

---

GULP Information Services GmbH

München, Deutschland

Ein Geschäftspartner hat derzeit eine spannende Position als Project Manager IT-Healthcare / eHealth am Standort München zu vergeben. Vielfältige Aufgaben, eine von Wertschätzung geprägte Arbeitsatmos ...

---

Experis GmbH

Munich, Deutschland

Project Manager (gn) Professional Services Sie suchen einen neuen Job? · Im Rahmen einer Festanstellung sucht Experis Sie als Project Manager (gn) Professional Services für unseren Kunden Thales am St ...