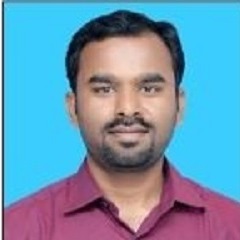 Über prasad mandade:
I am a Dynamic and Proactive Chemical Engineer with Ph.D. (Chemical) from the renowned Institute of Chemical
Technology, Mumbai, accented with the latest interdisciplinary and comprehensive approaches of the sustainable
development of the processes.
 Expertise in systems engineering tools such as Life Cycle Analysis, Circular Economy, Industrial Symbiosis,
Exergy and Emergy analysis, Multi‐objective optimization
Erleben Sie
Institute for Technology Assessment and Systems Analysis ITAS) at Karlsruhe Institute of Technology (KIT)
Karlsruhe, Germany
Post‐Doctoral Researcher (Scientific Collaborator) March 2021‐till now
 Life Cycle Assessment of emerging solid‐state Batteries (HIU project)
 Prospective environmental life cycle assessment of Magnesium Gel Polymer Batteries
 Environmental assessment of production of solid‐state lithium coin cells
 Sustainability assessment of Emerging batteries using systems analysis tools such as Exergy and Emergy
Department of Civil Engineering, Bioenergy, and Energy Planning Research Group at École polytechnique fédérale
de Lausanne (EPFL), Switzerland
Post‐Doctoral Researcher (Scientific Collaborator) March 2019‐March 2021
 Environmental and technoeconomic assessment of the NWE Europe bio‐based refineries (AGRIWASTEVALUE
INTERRENG project)
 Evaluation of potential availability and suitability of grape wineries in European context
 Enhancement of agro residues‐based energy and characterizing their Sustainability profiles compared to the
profiles of envisaged value chains for their harmonized development
Department of Chemical Engineering at Indian Institute of Technology (IIT), Bombay
Post‐Doctoral Researcher Jan 2016‐ March 2019
 Sustainable network design of sugarcane and allied industry: Application of By‐product Synergy network
 Economic and environmental assessment of bagasse utilization for ethanol production in India
 Understanding and developing Techno ecological synergy of IIT campus
 Optimization based design of an industrial cluster for economic and environmental benefits
 Comparative environmental assessment of multipurpose carry bags
Bildung
Department of Chemical Engineering at Institute of Chemical Technology (ICT), Mumbai 2009‐
2015 Ph.D. Chemical Engineering
 Developed environmental life cycle models of ethanol production from tropical biomass such as, sugarcane
products: juice, bagasse, and molasses, cotton stalk, rice husk, wheat stalk, and sorghum stalk.
 Analyzed Life cycle Energy and Emissions of cellulosic and sugar‐based ethanol.
 Comparative thermodynamic analysis of Acrolein production from fossil and bio‐based route is done. Both the
processes modelled in Aspen Plus and inefficiencies were computed for various unit operations.
 LCA of biodiesel production from algae and Jatropha in Indian context
 Ecosystem services were incorporated in the analysis using Emergy method of analysis
Department of Chemical Engineering at Institute of Chemical Technology (ICT), Mumbai 2007‐ 2009
M. Chem. Engg., Chemical Engineering
 Focused on the sustainability analysis of various power generation technologies considering the ecological inputs
using Eco LCA model.
 Power generation technologies from resources such as Coal, Oil, Natural gas, Hydro, Geothermal and Wind
considered in the analysis using different sustainability metrics
Fachleute, die mit prasad konkurrieren
Fachkräfte aus demselben Wissenschaftlich-Sektor wie prasad mandade
Fachleute aus verschiedenen Bereichen in der Nähe von Karlsruhe, Stadtkreis Karlsruhe, Karlsruhe
Andere Benutzer, die prasad genannt werden
Jobs in der Nähe von Karlsruhe, Stadtkreis Karlsruhe, Karlsruhe
---

Verivox GmbH

Heidelberg, Deutschland

Werkstudenten

Teaser · Werde Teil des Verivox Teams · Deine Leidenschaft ist es, Nutzungsanforderungen zu analysieren und mit unseren Kunden nutzerzentrierte Produkte zu entwickeln und zu testen? Du möchtest gerne ...

---

cbs Corporate Business Solutions Unternehmensberatung GmbH

Heidelberg, Deutschland

Senior Tax Research Analyst (mw/d) Locations: Heidelberg , Dortmund , Berlin , München , Hamburg · Wir sind die Berater der Weltmarktführer: Hochmotivierte Experten, die sich miteinander vernetzen, u ...

---

SEEBURGER AG

Karlsruhe, Deutschland

Unser Purpose drückt ideal aus, was wir tagtäglich mit Begeisterung tun – die IT-Systeme unserer Kunden vernetzen, um ihre Prozesse zu digitalisieren, damit die richtigen Daten zur richtigen Zeit am r ...