Bee Vs. Locust. Mother Nature explains us why are we in crisis. Part1.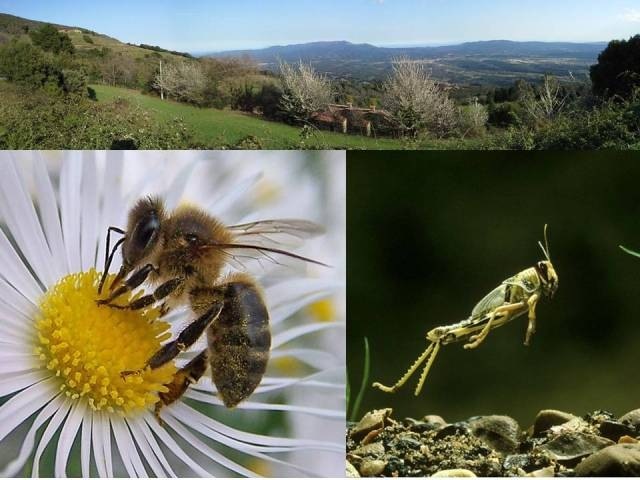 Bee Vs. Locust
Mother Nature explains us why are we in crisis. Part 1
Abejas Vs. Langostas
La Madre Naturaleza nos explica porque estamos en crisis. Parte 1
By David Navarro
Many studies have investigated the phenomenon of the current crisis, from the perspective of accountants, statesmen, power groups and the common people, all experienced and wise.
But there is nothing wiser than Mother Nature, that speaks without words.
Sorry for the previous notes of Biology but they all give us indicators that we must consider.....on baby steps if necessary...
Muchos estudios han investigado el fenómeno de la crisis actual, desde la perspectiva de contables, hombres de estado, grupos de poder y gente común, todos experimentados y sabios.
Pero no hay nada más sabio que la Madre Naturaleza, que nos habla sin palabras.
Perdón por las notas previas de Biología, si bien nos dan indicadores que deberíamos considerar...aunque sea pasito a paso...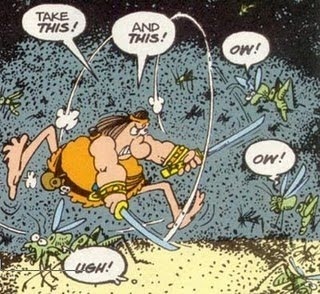 ...unless you have a better strategy,of course...
...a no ser que tengamos una estrategia mejor, claro...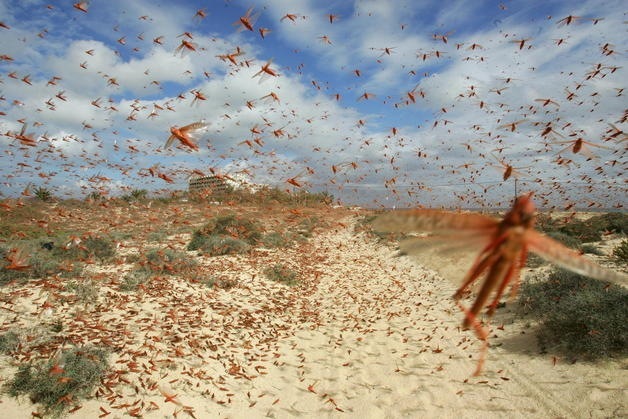 From biblical times, is known to us the voracity of locusts. Curiously enough, a synonymous of voracity is Greed.

Millennia and randomly locusts ravage entire territories,
leaving poverty and desolation in its wake.
Desde tiempos Bíblicos, nos es conocida la voracidad de las langostas.
Curiosamente, un sinónimo de la voracidad es la codicia.
Desde hace milenios, y de forma aleatoria, las langostas asolan territorios enteros, dejando pobreza y desolación a su paso.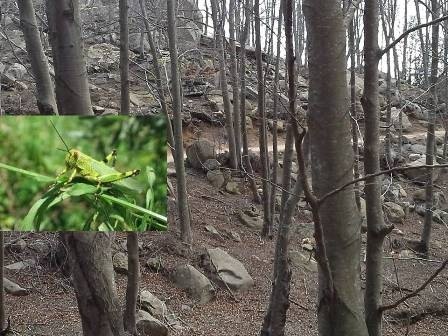 In its solitary status, they are harmless. But when they become gregarious, can threaten the livelihood of a tenth of the world.
A locust can eat every day the equivalent weight in plants, so a swarm could eat 192 million kilograms of plants a day.
Cuando están en su estado solitario, son inofensivas.
Pero cuando se vuelven gregarias, pueden poner en peligro el modo de vida de una décima parte del mundo.
Una langosta puede comer su peso equivalente al dia, de modo que un enjambre puede comer 192 millones de kilogramos de plantas en ese tiempo.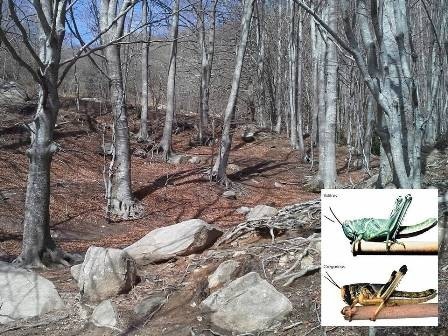 They not only change their behaviour,
their appearance too.
It is interesting that although they have wings,
do not fly much alone.
No sólo cambian su comportamiento, su apariencia también cambia.
Es interesante que aunque tienen alas, no son capaces de hacer vuelos largos cuando están solas.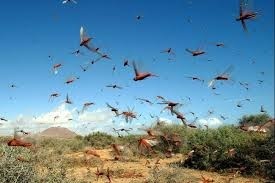 However, when they are in groups, they release pheromones as much making them develop more wings and prepare for migration.
With them, they can cover a distance of 90 kms a day.
Sin embargo, cuando están en grupos, liberan feromonas que las hacen desarrollar las alas, preparándolas para la migración. Con ellas, pueden cubrir una distancia de 90 kms en un día.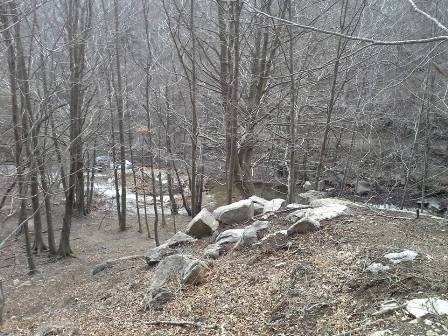 It seems that when food runs short, they slowly become clustered together, levels of serotonin are multiplied by three due to intense friction, thus they suffer all these morphological and behaviour changes.
But let us see a little about the bees.
Parece ser que cuando la comida escasea, se apelotonan, y sus niveles de serotonina se multiplican por tres debido a la intensa fricción, dando lugar a los cambios morfológicos y de comportamiento.
Pero hablemos ahora un poco de las abejas.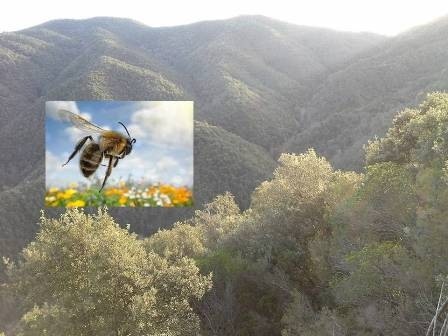 When a young queen bee starts a new hive, on its nuptial flight, it makes sure to be with enough drones to ensure having all necessary for the rest of its life.
Cuando una joven abeja reina empieza una nueva colonia, durante su vuelo nupcial, se asegura de entrar en contacto con suficientes zánganos para tener todo lo necesario para el resto de su vida.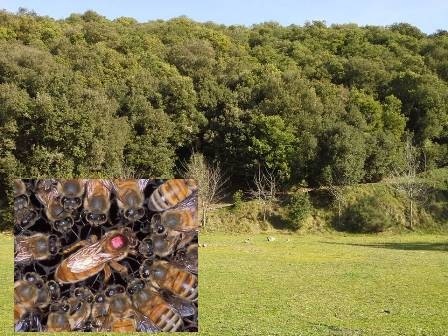 Its only tasks from now on are laying eggs, and to enter in contact with every worker bee of its hive daily.
Sus únicas tareas a partir de ese momento son poner huevos, y entrar en contacto con todas las abejas obreras de su colmena a diario.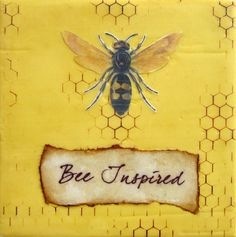 This way, touching the antennas, it trespasses pheromones that compel the workers to do their job, feeding the larves, the queen itself, taking care of security, or going out to look for nectar.
De este modo, tocándose las antenas, les traspasa las feromonas necesarias que compelen a las obreras a hacer su trabajo, sea alimentando a las larvas o a la propia reina, cuidando de la seguridad, o a salir a buscar el néctar.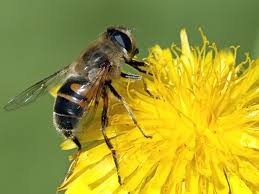 When the workers go around, it happens a phenomena called symbiosis.This is the relationship between species that have nothing to do between them, but the mutual contact give mutual benefits.
Mientras las obreras liban el néctar, ocurre un fenómeno llamado simbiosisÉsta es una relación entre especies que no tienen nada que ver entre sí, pero que mediante el contacto entre ellas, se benefician mutuamente.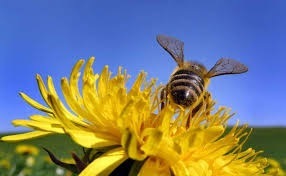 The bee is only interested on the nectar, but is using its mobility to spread the seed of the flower.
A la abeja sólo le interesa el néctar, pero merced a su movilidad, dispersa las semillas de las flores.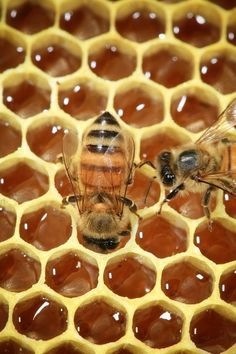 The queen bee lays workers eggs only, until there are too many, and the queen is not able to touch every bee daily.
Mother Nature makes a change, and the queen starts to lay queen and drone eggs.
La abeja reina sólo pone huevos de obreras, que no tienen órganos reproductores, hasta que son demasiadas, y la reina no es capaz de entrar en contacto con todas a diario.
La Madre Naturaleza provoca un cambio, y la reina empieza a poner huevos de reinas y zánganos, que sí los tienen.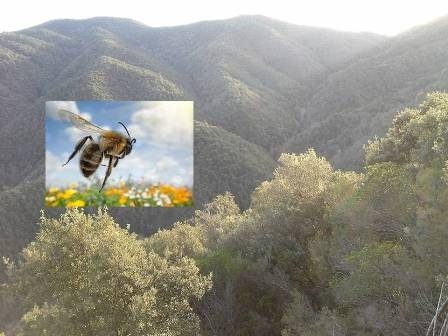 When they are born, they go out of the hive, and the cycle starts again. Some return to the original hive, to help the existing queen. 
The rest, some start a new one, or get killed.
Cuando nacen, salen de la colmena, y el ciclo empieza de nuevo. Algunas vuelven para ayudar a la reina existente.
Otras empiezan un enjambre nuevo, o mueren.
At this point in the article, it is sure you have already found some similar behaviors in the business world. Let us see some conclusions on part 2.
En este punto del artículo, es seguro que ya habéis encontrado similitudes de comportamiento en el mundo de los negocios.Veamos algunas conclusiones en la parte 2.
""""""""""""""
Diese Stellen könnten Sie interessieren
---

Post & Paket Deutschland

Gifhorn, Deutschland

€29.822 - €36.924 pro Jahr

Become a Postman for Packages and Letters in Gifhorn · What we offer: · ✓ €14.93 tariff hourly wage (€17.05 from April 2024) including 50% Christmas bonus · ✓ +€180 tax-free special payment monthly fo ...

---

Trelleborg Sealing Solutions (TSS)

Stuttgart, Deutschland

Trelleborg is a world leader in engineered polymer solutions for almost every industry on the planet. And we are where we are because our talents brought us here. By specializing in the polymer engine ...

---

Post & Paket Deutschland

Hagenbach, Deutschland

Be a mail carrier for packages and letters in Hagenbach · €14.89 tariff hourly wage (€16.92 from April 2024) including €0.55 regional labor market allowance · Additional tax-free special payment per d ...