Bubbles of creativity reloaded. (or what relation could they have with energy)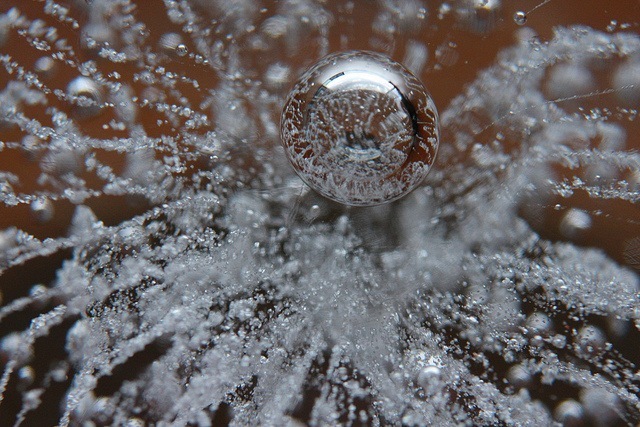 The following post comes out from the provoking post of Ali https://www.bebee.com/producer/@ali-anani/bubbles-of-creativity#c20
And the challenging comments of (in order of appearance) @namita sinha @Aaron Skogen @Sara Jacobovici, @Irene Hackett.
Ali would be the more indicated to overview these concepts due to his education as PH.D., so his corrections on this matter should be taken into consideration.
In any case, I found a very interesting relationship between producing bubbles and the concept of energy.
Kinetic Energy is a form of energy same as Potential Energy is.
Both are directly proportional to the mass of the body.
Kinetic Energy=1/2mv2, that is half its mass times the square of its speed
While Gravitational Potential Energy can be defined as the ability of a body located in an elevated position to generate energy. The gravitational potential energy of a body can be calculated by multiplying its mass, the acceleration of gravity and the height at which is situated. The body weight and height in which is positioned the body are directly proportional to the power they can generate.
What has to do with it all about?
Well, some small ideas (or with low mass factor) can awaken and put in motion big ideas which "seemed" to be "latent", due to lack of "speed", but its "mass" and the "position" of this mass allowed the small mass idea with a "high speed" to put a bigger mass in motion, taking profit of the height of the bigger mass.
Another example of the Europe's recent history, the first world war.
Many countries were latent, with a big mass, holding a "cold war". The killing of just a man, the archduke of Austria in Sarajevo, provoked all this immense mass of countries to go to the madness of a world war, with more than 9 million of soldiers killed.
One single idea at its most primitive form can be the trigger for something much bigger.
How can we take advantage of it?
We have all a lot of ideas daily. Some have big mass, some not. We have the capacity to discard or treasure ideas, even if we are doing nothing with them.
If one is treasuring destructive ideas, about the employer, the wife or husband, friends, the mother in law(well, this should have its own post), you name it, even if they are small, it is only a matter of time that a small mass but highly speed one can trigger a chain reaction which would be out of our control.
The reason? The sum of the mass of small destructive (or not) thoughts
What if we just discard harmful bubbles and only treasure the good human values based ones?
Maybe nothing happens in a while.
But no doubt about it, one day a small mass with high speed "bubble" will appear, and its kinetic energy will put in motion a bigger potential mass of ideas which were "latent" ever since.
And this is my tribute to my friend Ali. He appeared in my life in a moment I had the worst opinion of myself. The bad results of my professional and personal life drove me to a point on which I thought I was less than nothing, a waste of space. But he saw my soul in the middle of harmful bubbles of my mind and perceived something I was not aware I was able to.
Knowing how humble he is, I know he would say he did nothing.
This is precisely my point. A small mass idea, on its right moment and with enough speed, can be definitive. 
But get no mistaken on this point. 
Only from a big man can arise these kind of bubbles.
Thank you Ali.
Photo can be found at https://www.flickr.com/photos/djg-sydney/7892837944/
Diese Stellen könnten Sie interessieren
---

SOA PEOPLE AG

Ettlingen, Deutschland

• A European SAP Partner with expertise and innovative solutions for over 900 customers in 7 countries. · • They assist companies from various industries in digitalizing their processes along the enti ...

---

Globus Markthallen Holding GmbH & Co. KG

Plattling, Deutschland

€40.000 - €60.000 pro Jahr

Location: Dr.-Walter-Bruch-Straße 1, 94447 Plattling · Immediate availability · Your apprenticeship with GLOBUS is "Echt nice" · Start your future in our market hall and shape the meat counter togethe ...

---

envia Mitteldeutsche Energie AG

Chemnitz, Deutschland

€50.000 - €70.000 pro Jahr

Join our team as a SAP EAM Energy Sector Accounting Specialist and contribute to shaping the future of energy. In this role, you will be responsible for managing the financial aspects of our assets, e ...