Car Washing with Papa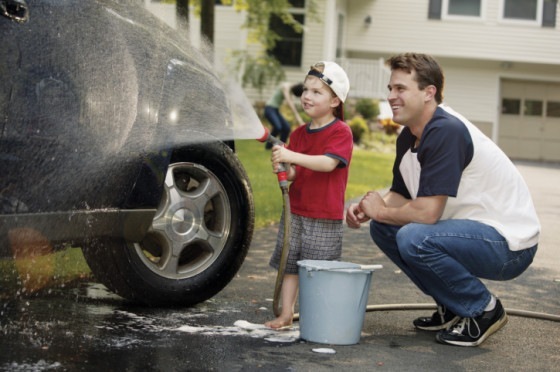 Every time I wash my car, it comes to my mind when my father asked me to help him washing the family's car.
It was always a fun moment to make something useful side by side with him.
From him, I learned many things, as well as painting, fixing a door or a light at home.
He was a very handy man, and I don't remember having any professional coming home to fix anything. It did not matter if he had not the right tools or parts: he always managed to get things done, and this I learned from him, as he always had me on his side to help, watch and learn.
Last Saturday I went to wash my car.
Beside me, at the vacuum cleaner range, it was a man cleaning his car too.
In the back seat of the car, was his son, about 10 years old, playing with a Gameboy, while chatting with papa's cell phone, and listening to a kid story played full volume at the car's audio device, all at the same time.
Nevertheless, his face was of an absolute disgust and yelled bitterly his father due to the noise produced by the vacuum cleaner, as it was "disturbing him", and complaining why it was taking so long to get the car clean.
Obvious to say, the most of the dirt at the car was due to the rests of sweets, biscuits, and toys of the son.
The father reaction was to humbly apologise, promising he would buy him something he wanted (I did not hear what) as soon as they were ready.
Not enough. 3 minutes later the boy started to yell again, so the father stopped cleaning the car, and they went away.
There is something of these "modern times" I have the feeling I am not understanding.
Parents nowadays are replacing with presents which can be bought with money, the priceless things I got from my parents, that is, their time, example, teachings and discipline.
I believe this is the perfect scenario to produce egocentric monsters for our future world.
We are all concerned about the economic crisis.
The worst crisis is still to come, due to not planting today the right seeds of high human values in our children for the future. And we are not going to be able to blame others. We had it at our time. But we forgot what it really counts. 
Just saying.
"
Diese Stellen könnten Sie interessieren
---

Rodday Wundmanagement GmbH

Bremen, Deutschland

€32.000 - €48.000 pro Jahr

As a leading company in Germany for modern wound care, we are looking for a Wound Care Specialist for Field Service to join our delicated team. You should have a 3-year degree in human medical area, e ...

---

Privatanbieter

Schwabach, Deutschland

Jobbeschreibung Benötigte Anzahl an Umzugshelfern: 2 · Help with moving of boxes from the car to the apartment (including washing machine and refrigerator) Aufgabenbereiche · LKW beladen/entladen · ...

---

Alloheim Senioren-Residenz "Am Quellenbusch"

Düsseldorf, Deutschland

Ganztags

€40.000 - €50.000 pro Jahr

Gerontopsychiatrische Pflegefachkraft (w/m/d) · Position available at Alloheim Senioren-Residenz "Am Quellenbusch" · Located in Düsseldorf · Full-time position · Permanent employment · 40 hours per we ...