Communication is a two ways journey.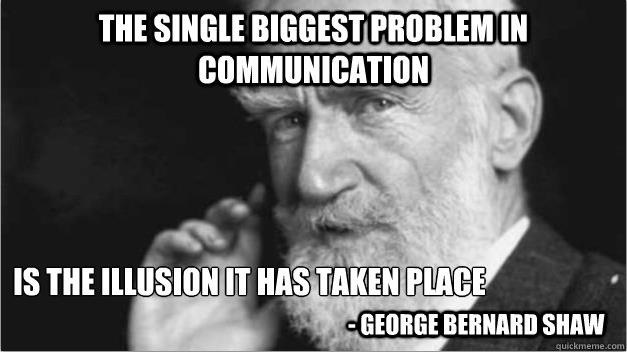 Whenever we try to share a thought, immediately some obstacles use to emerge hindering it to comes out as clearly as we wanted to share it.
These obstacles, just mentioning some of them, could be classified into two categories, "talker obstacles" and "listener obstacles"
Talker obstacles
Choosing the right words.
Putting a thought or a feeling into words can be the hardest part of it because we don't "produce" them in a form of words, but in an ethereal form which is much more complex.
So language can be a serious limitation to express ourselves. Poets use to master words to communicate a feeling even not mentioning the thought or feeling itself in words. But not everyone is a poet, although everyone has thoughts to communicate.
A very common false assumption is thinking our listener is going to see things same way we do, so we fall into the trap of thinking he/she will take our thoughts same way we would, without taking into consideration that our listener has different life experiences, culture, education, than we do, and which can blur the real meaning of it.
Choosing the right moment.
The same sentence said in a moment in which we have non-appropriate mental status for it, can change substantially the meaning of it, and therefore, show a completely different intention or purpose.
Listener obstacles
False assumptions. Yes. Again.
The listener can be biased due to false assumptions about the talker, so the transmitted thought can be completely misunderstood.
Choosing the right moment. Yes. Again.
Even if we are at the right moment to express a thought, our listener could not be at the point to fully understand. And we have no certain way to know it.
Above all, when communicating, we will never be sure of the reach we did. Some thoughts take a time to be assimilated, and the ulterior consequences can vary in time and impact on the listener.
Trying to surpass obstacles
There are no firm laws or one-size-fits-all solutions on this. Otherwise, after millennia of human communication, misunderstanding should not take place anymore. What it could be useful in one situation could be useless in another. The only thing we can do is to learn from good communicators.
Use an empathetic introduction
We will never be sure if the listener is ready to assimilate the thought we are transmitting.
So we need to "create" an environment inducing the listener to be at the mental disposition to really listen. Introductions are useful on that, on which examples, metaphors or a set of questions which can be easily understood could be useful. Still, there is a risk on it, because if we abuse of the introduction, the listener will miss the core of we want to transmit.
One thought or idea takes a ridiculously small amount of time to be formed in our head. We use rest of the time to collect the needful things we needed to come to this idea or thought and to figure out how we are going to apply it.
As Maya Angelou said, people will forget what you say, will forget what you did, but will never forget how you made them feel.
It takes only a brief moment to a spark to light a fire which can burn a forest.
The only way to know if a communication has been successful is to compel the audience to react to it, and provoke that communication happens to be a two ways journey, so you can verify if what you wanted to transmit has made the desired effect.
It is not a coincidence that we have two ears and just one mouth, so we should listen the double we talk.
Diese Stellen könnten Sie interessieren
---

Leibniz-Institut für Zoo- und Wildtierforschung

Friedrichsfelde, Lichtenberg, Deutschland

Nebenberuflich

For English version please see below. · Das Leibniz-Institut für Zoo- und Wildtierforschung (Leibniz-IZW) im Forschungsverbund Berlin e.V., Teil der Leibniz-Gemeinschaft, will die Anpassungsfähigkeit ...

---

C3 Crypto Conference GmbH

Berlin, Deutschland

Freelance

Berlinverse is finally happening this December 2022 This is the place where the Future of the Internet, Web3, Metaverse, NFTs, GameFI, Collectibles, Music, and Digital Art/Generative Art will all be o ...

---

REVIDERM AG

Sauerlach, Deutschland

Ganztags

Die REVIDERM AG, mit ihren Tochterfirmen in Österreich und der Schweiz, ist führend im Bereich der Mikrodermabrasion und medizinisch orientierten Wirkstoffkosmetik. Fasziniert von der Komplexität der ...