Do we take paths, or do paths happen to be due to us?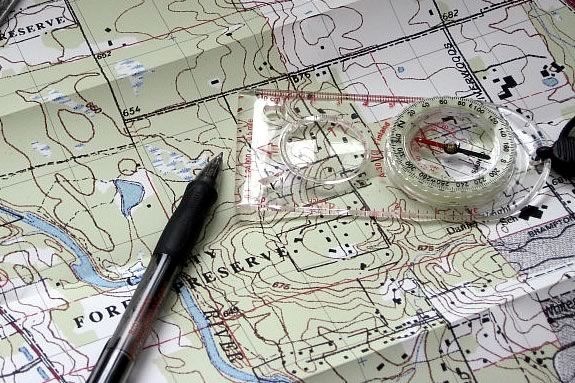 A predetermined path seems to me a way of losing freedom but can be as well an easy way for walking life, as there is no need to trace and open new paths in the wilderness.
I can't help to remind the excellent poem of Antonio Machado
Caminante, son tus huellas                                                            Wanderer, your footsteps are
el camino, y nada más;                                                                    the path, and nothing else;
caminante, no hay camino,                                                             wanderer, there is no path,
se hace camino al andar.                                                                the path is made by walking.
Al andar se hace camino,                                                                Walking makes the path,
y al volver la vista atrás                                                                    and on glancing back
se ve la senda que nunca                                                                one sees the path
se ha de volver a pisar.                                                                     that will never tread again.
Caminante, no hay camino,                                                              Wanderer, there is no path—
sino estelas en la mar.                                                                       Just waves in the sea.
Undoubtfully, to walk our life with no limits at all would make of us a drifter or a hermit.
We, humans, are social animals, so somehow we need to limit the boundaries of our path in a way that while not losing our own personality, we can keep sticking to some similar human beings to us. Something half way between a flock of sheep and a lost goat.
These two opposite ends still have a tremendous amount of options which can fit anyone.
We cannot forget that basically, life has 4 main components: Circumstances, options, choices, and results. Though we can only have influence in one out of them: our choices.
Our choices can be delusional too, as we can only choose from what we know or from the options we have.
So it could seem to us that we are exceptional, that nobody is like us, that we don't fit and will never do. And this could lead us to walk our life like a lost goat, jumping from rock to rock looking for a greener grass forever, or to fail repeatedly and finally become a sheep, following the herd hopelessly with our head down.
Not to have the options we would like to have to choose from doesn't mean they don't exist. It can be simply that the circumstances we are in could be hindering the options we are looking for to appear before our eyes.
As some people say, no change will happen within our "comfort zone". So maybe we need to change our circumstances, no matter what it takes.
The point is that we need to stick to something to avoid getting lost in our seeking.
We need a compass to show us the direction. Like in a compass, we need to find out some fixed points, "a North" to which we can always refer to, to readjust our path when needed.
Sometimes we choose a path that seems fitting us, so we follow it. But as an expert Wanderer, frequent checking has to be done to see if we are heading in the right direction as it could happen that slight variations of the path could lead us to a place we don't want to go.
One thing can be taken as certain. The perfect path that lasts a whole life doesn't exist. Shortcuts, detours, and change of paths is going to be a constant in our lives, so we better get our "compass trained"
But, how to do that?
Biggest and most immovable truths are the simplest ones. Love and hate. Altruism and selfishness. It is a matter of choosing what is our "North" and our "South" and using them as a referral to adjust our path. What it drives us to our South it diverts us from our North.
We are not so different to other human beings. No matter what is the "North" we have chosen, surely other people would have chosen the same than us. Maybe they are alone too, walking their own life. Maybe there are some of them already walking together. Maybe we need to be flexible, and even if we need to renounce to go straight to our target, we can enjoy our path with others that in the end are pursuing the same destination than us.
Keep your eyes in your compass, and in the compass of the people who are walking life with you. If they match, well, maybe you can enjoy your walk with others, share experiences and discoveries. If they don't match, sooner or later you will need to change the path.
This is the real choice that needs to be done. The rest is just one step after another.
The spark that motivated me to write this buzz was due to the challenging buzz of my dearest Ali 🐝 Anani, Brand Ambassador @beBee ,    but I would like to dedicate it to a very special person for me, Lena Bader.
"
Diese Stellen könnten Sie interessieren
Gefunden in: Joblift DE C2 Email - vor 2 Tagen

---

Xentral ERP Software GmbH

Augsburg, Deutschland

Ganztags

Wir suchen einen erfahrenen und motivierten Kundenmanager Lead, der sich auf die Implementierung von ERP-Systemen spezialisiert hat und eine Leidenschaft für die Lösung von Kundenproblemen besitzt. De ...

---

Xentral ERP Software GmbH

Augsburg, Deutschland

Employee

Xentral denkt ERP neu und als aufstrebende Marke konnten wir bereits über 1.500 Kunden begeistern. Um diese Erfolgsgeschichte fortzuschreiben, wollen wir nicht nur neue Kunden gewinnen, sondern auch u ...

---

LUMASERV GmbH

Hamburg, Deutschland

Ganztags

€60.000 - €90.000 pro Jahr

Über das Unternehmen · LUMASERV hilft Organisationen mit maßgeschneiderten Cloud-Lösungen ihr volles Potential zu entfalten. Wir wollen gemeinsam mit unseren Kunden in einer sich ständig verändernden ...