The relativity of TIME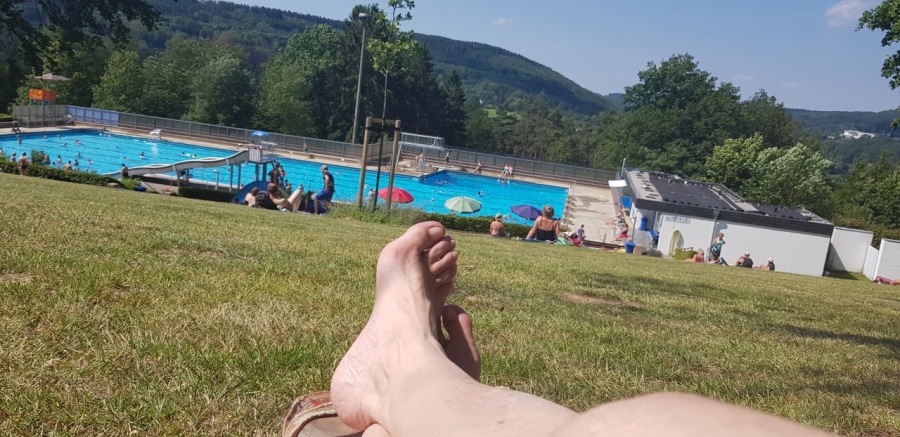 Time is relative. Since Einstein, this sentence has been overused. Most of the times, it diminishes the value of it, as if it was an eternal asset, something we should not care of.
And yet, many people live their lives dominated by the time or the lack of it. Better said, they try to do too many things within too little time. For the latter, most of the times they miss what it feels like taking time for oneself.
A wise man said, you will never have time if you don't take it.
Today, despite feeling a bit sad as my "half orange" is in the other corner of the world, I decided to take a little time for me, and have some relax at the swimming pool.
Woke up early, made some sandwiches, picked my beach chair, a nice book by Eduard Punset "The travel to optimism", sunglasses, flip flops, towel...ready, set, go!
Sun was shining, quite rare in Germany I must say. The day was promising.
Some half an hour later, two young couples, in their late twenties "landed" close to my place.
They spent more than an hour complaining about someone who parked in the parking lot in a way that three cars could have been parked instead of one. (after that time, I remembered I got my earphones, and I put them on as if my life was depending on it)
Even if I had my favourite ACDC music bumping my ears, I couldn't help keeping thinking on the bitterness of those four young people, about such a useless issue.
As Spaniard living in Germany, who has travelled to many countries in the world, the first thing it came to my mind was:
Well, you are complaining about someone's lack of politeness at parking.
The fact is, you could still park, didn't you? And, you didn't have to pay, 'cause is free. And you don't have to be all the time frightened, before the possibility that you get your car stolen, because it would be very strange to happen here. Security here is so nice, that you can leave your wallet opened, with money showing up at the sight of everyone at the swimming pool, and nothing is going to happen. Nobody messes with you. Respect is a must, is expected and it is not understood other ways.
And these four young people have been wasting their time about a stupidity, instead of showing love to each other, which it would have been what I would have been doing if my love was by me.
Then a question came to my mind:
What if this hour they wasted, would be the last of their lives?
Isn't it time relative? Would make any difference if the wasted hour would be today, or in 40 years time, just before dying?
But to waste that hour complaining about an a..hole just before dying would be stupid, although it could make much more sense than now, when you still have so many things to be grateful of, so many kisses to give, so much laughter pending, so much sun to enjoy.
Then, I went back to my book and the wise Eduard Punset "talked" to me:
When you don't have a paused and responsible concept of time, you live dominated by either pessimism or optimism...Only when you look at past and future in perspective, you understand that any past time was worse, and any future time will be better. 
These words, and the following I am going to refer, made me think that it is important to see the TIME as a whole in all its levels, as something we need to understand and respect, and assume that only by doing that, a better comprehension of our oneself can be obtained.
Destiny of our species is a compound of six different levels. Surviving implies to be successful in each of them, even if the unit of survival is different in each level. If you consider single years, the unit is a human being. In a level of decades, family is the unit. In a century's level, tribe or nation is the unit. In the level of millennia, a culture is the unit. In tenths of millennia level, species is the unit. In the level of eons, the unit is the life network in the planet.
All humans are the result of the adaptation to these six levels of time and their units:
Human being, family, tribe, culture, species, life network.
Freeman Dyson
Therefore, even if our reach could seem as less as several decades, the understanding of our role in the universe has to be in harmony to the whole concept of time as seen above.
Furthermore, what we do today with our time, believe it or not, will have a direct impact in aeons to come.
It is a huge responsibility not to waste the time we have been given to enhance ourselves, family, tribe, culture, species, life network.
We better think twice next time we have the temptation of complaining about useless issues.
Diese Stellen könnten Sie interessieren
---

TRUMPF Inc.

Deutschland

Ganztags

Apply locations Ditzingen time type Full time posted on Posted Yesterday job requisition id R00021447 How brave are you? Aufbau und Betrieb der "Q-Regelkreise", die entlang der Wertschöpfungsprozesse ...

---

ZEISS Digital Innovation

Deutschland

Head of Development & Technical Services SPU (m/w/x) page is loaded Head of Development & Technical Services SPU (m/w/x) · Apply locations Jena Göttingen Oberkochen time type Full time posted on Poste ...

---

Haema

Berlin-Charlottenburg, Deutschland

Ganztags

€35.000 - €38.000 pro Jahr

Haema is the largest private blood and plasma donation service in Germany with 41 locations. We are a partner of Grifols, a leading global healthcare company that develops and offers plasma-derived dr ...