What it really counts is never at sight.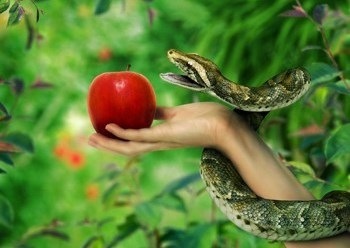 This buzz is inspired on @Ali Anani presentation http://es.slideshare.net/hudali15/snaky-assumptions-a-creative-approach
This was largely exposed by Greek philosophers, which denied taking as absolute truth anything you could see, or smell or touch.
The ultimate truth can only be seen with the eyes of the thought.
Out of this, the rest are assumptions, which can blind us from the reality.
The acceptance of what is obvious as the only truth might have its inception on mental laziness, or fear of appearing suspicious minded.
On this mindset, reluctance to try to see what is behind can be pushed up by too obvious facts or the total absence of them, in front of our physical eyes, which hallucinates the eye of the thought, the one which can see in truth.
Snaky assumptions are there in the dark, waiting to bite. You can't eliminate them. They are inherent to the human being.
If one reads the oldest book of the humankind, it was a snake which asked the woman, the less experienced human in earth by that time, if it was true that God had prohibited the humans to eat of any tree.
-Oh no, she said, just from the sacred tree we cannot eat. 
We all know the rest of the story. 
First assumption, a snake can speak.
Second, she can hide from God's eyes.
Third, God is hindering her from something good which she had the right to have.
Forth, the less experienced one can take major decisions unilaterally that may affect the entire group.
The eye of the thought would have seen that:
-a snake cannot speak, so if somebody is using subterfuges or sending "messengers", an unclear and poisoned truth must be behind
-You cannot escape your decisions
-You cannot assume meanness coming from someone who has given you so much, thus a trajectory cannot be overridden by an isolated event.
Best of luck training your "eye of the thought", in order to identify "sneaky assumptions" in your life that can kill you.
"
Diese Stellen könnten Sie interessieren
---

Globus Markthallen Holding GmbH & Co. KG

Plattling, Deutschland

€30.000 - €40.000 pro Jahr

Dr.-Walter-Bruch-Straße 1, 94447 Plattling · Immediate start · Togetherness. For each other. Really good · As a working group, our goal every day is to offer the best to customers and employees. · Eve ...

---

XERVON EMR GmbH

Wiesbaden, Deutschland

Ganztags

€45.000 - €60.000 pro Jahr

XERVON EMR is part of the XERVON Group and specializes in electrical, measurement, control, and regulation technology (EMSR). The range of services includes all fields - from planning and design to co ...

---

REWE

Gemünden, Deutschland

Ganztags

€40.000 - €60.000 pro Jahr

Location: 97737 Gemünden · Contract type: Full-time, permanent · Job ID: 800222 · What you do with us: · The fresh counter is the heart of our REWE market. With your expertise and an appreciative lead ...