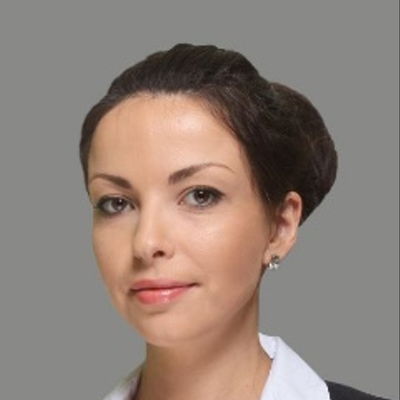 Über Mihaela Todorova:
Results-driven Commercial Trade Manager with over 12 years of experience in the healthcare sector, responsible for leading the central McKesson HQ strategic buy-in and sell-out activities for Commercial Procurement. Identifying and developing relationships with key import suppliers and export customers, managing supplier performance, work closely with local McKesson procurement teams to implement strategic and aligned approach to group trading covering both new product opportunities scan and external partnerships management. Strong analytical and negotiation skills, as well as knowledge of the medical care industry and its trends. Leading without authority competence, with the ability to effectively manage and motivate cross-functional teams. 
Strategic mindset, strong commercial acumen, partnership management and excellent presentation skills. Ability to translate central commercial strategy into clear plan of actions and work closely with internal stakeholders towards the desired outcomes. Confident and tactful, with exceptional interpersonal communication abilities, team leadership across multinational and interdisciplinary teams onsite and remote. 
Erleben Sie
Key Skills
Leadership: Direct Reports, Leading without Authority, Taking into account Multicultural and Business factors 
Business Development: Business Insights, Business Strategy, Market Research, Business Opportunities Scan, Strategic Partnerships
Strategic Planning: Business Models, Operations, Data Analysis, Process Re-engineering, Change Management, Compliance
Commercial Procurement: International Trade, Negotiating, Pricing Mechanisms, Strategic Business Partner Relationships, SLAs, Procurement Strategic Sourcing. 
Career Summary
 

05/2019 -

present

 

Commercial Trade Manager, Procurement

McKesson Europe AG (McKesson Corporation), Stuttgart, Germany

 

Senior level expertise and always in close contact with local McK country teams to coordinate and align strategies and deliverables based on key business insights 
Main responsibility for coordinating parallel trade teams operating across 12 countries as well as setting and monitoring individual and team KPIs
Promoted to support trade activities of McKesson Europe subsidiaries located in 12 countries by leveraging EU-wide enterprise resources to optimize buy-in and sell-out activities via new ideas for strategic growth initiatives
Leads business development negotiations with strategic EU commercial stakeholders internally and externally
Collaborates with Wholesale and Retail subsidiaries across the McKesson group to think creatively about adjusting existing trade product portfolio and business models to generate additional revenue streams
Generated extra 2% margin on key product portfolio by innovating data intelligence concept to support the identification of low cost sourcing options for products to be imported in UK and Germany
Drives effective strategy execution, cross-functional initiatives and mitigation following political news and change in regulations which affect trade to minimize impact in case of new restrictions and limitations
Develops strategic business cases for process re-engineering or structural change to improve performance at local and central levels in collaboration with European Business stakeholders
Undertakes data-driven strategic planning to support cross-border revenue and profitability growth by exploiting price arbitrage for comparable products, developing special agreement terms for import partnerships and championing new initiatives, e.g. expanded product portfolio to new product categories

 

06/2016 -

03/2019

Business Analyst, Procurement

McKesson Europe AG (McKesson Corporation), Stuttgart, Germany  

 

Worked closely with local business units to generate additional revenue streams by exploring new business opportunities across McKesson subsidiaries and external export and import partners
Supported Commercial Procurement budgeting process and aligned Central to Local commercial functions to meet corporate and BU objectives
Researched and analysed European markets to develop profitable import business models, e.g. special intragroup and third party agreements to get low cost/high availability for import volumes ordered, and to create synergies between subsidiaries
Drove collaboration with local procurement and sales departments of EU business units to support local business development strategy delivering higher stock availability for trading purposes, better export pricing and higher McKesson group volume retention
Oversaw external partners tailoring BI tools to align data intelligence with the business needs
Implemented sustainable reporting to track business performance against broader market trends, prepared reports and commentary for senior management and the Board
Represented McKesson EU at European business reviews and objectives planning meetings

09/2014 -

04/2016

Project Manager, Healthcare Market Research

M3 Global Research, London, UK 

 

Project managed delivery of full life-cycle quantitative online surveys for pharmaceutical and healthcare clients
Key point of contact for clients and delivery teams of up to 7 clients and 4 delivery teams at a time, managed client relationships and accounts
Planned online data collection and recruitment methods to engage with targeted patients and physicians, with over 100 respondents per survey and sample from up to 10 countries covered per survey
Drove quality control, reviewed profitability on individual projects

12/2011 -

09/2014

Project Manager, Healthcare Market Research

Ipsos MORI, Fieldwork International, London, UK 

 

Responded to RFPs and RFQs, prepared project costing, negotiated with third parties to achieve higher profitability
Oversaw data collection and project fieldwork completion for over 100 healthcare studies, defined team KPIs
Authored progress updates and final study reports and analysis for clients, coordinated programming and translation of surveys in other European languages.
Bildung
 

2006 -

2010

 

Bachelor of Science -  Psychology 

Sv. Kliment Ohridski, Sofia University, Sofia Bulgaria

 

09/2018

Lean Six Sigma, Green Belt
McKesson EU AG

04/2016

PRINCE 2 Foundation
APMG International
Fachkräfte aus demselben Pharmazeutische Industrie / Biotechnologie-Sektor wie Mihaela Todorova
Fachleute aus verschiedenen Bereichen in der Nähe von Stuttgart, Stadtkreis Stuttgart, Stuttgart
Jobs in der Nähe von Stuttgart, Stadtkreis Stuttgart, Stuttgart
---

Murrelektronik GmbH

Oppenweiler, Deutschland

Global Procurement Excellence Manager (m/w/d) Oppenweiler 40 Std./Woche Flexible Arbeitszeit Unbefristet Ihr neuer Job Konzeption, Weiterentwicklung und Pflege von Methoden, Werkzeugen und Standards, ...

---

TAKKT AG

Stuttgart, Deutschland

kaiserkraft, eine starke Marke der TAKKT-Gruppe · sucht zur Verstärkung des Teams in Stuttgart motivierte Mitarbeiter/-innen als · Procurement Manager (gn) - Packaging Solutions · um gemeinsam die Zuk ...

---

Drees & Sommer AG

Stuttgart, Deutschland

Als innovatives und zukunftsorientiertes Unternehmen agieren wir bei Drees & Sommer als integraler Lösungsanbieter für hochkomplexe Projekte und valider Partner bei der Planung und Realisierung von In ...