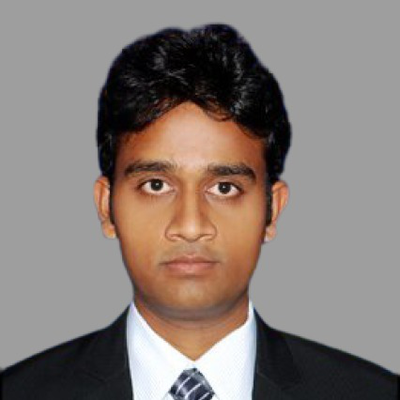 Über Vijay Nimbarte:
Experienced medicinal chemist which includes a structure-based drug design approach supported by in-silico methods and tools. Experience in dealing with mg-100g scale covering a broad range of targets including heterocycles, nucleotides, and complex small biologically active molecules. Experience using most major purification and analytical method. A true team-oriented contributor.
Erleben Sie
August 2020 - Current (2 plus years) Post-Doctoral Scientist | Max Planck Institute for Medical Research, Heidelberg, Germany Supervisor: Prof. Dr. Kai Johnsson ▪ Design, synthesis, and development of clinical candidate for peripheral neuropathy by targeting Sepiapterin reductase enzyme ▪ Implement design aspects into small molecules by maintaining ideal CNS MPO criteria for peripheral restriction of small molecules ▪ Used ELN notebooks to enter data into project database and provided regular updates. ▪ Monitored company inventory to keep stock levels and databases updated. ▪ Collaborated with Lead discovery center, Dortmund, Germany to achieve desired ADME and DMPK profile to generate ideal Lead candidate for drug discovery program. ▪ Proved successful working within tight deadlines and a fast-paced atmosphere. ▪ Oversaw daily operations to ensure high levels of productivity.
March 2016 - June 2020 Ph.D., Marie Curie Early Stage Researcher | Goethe University, Frankfurt Supervisor: Prof. Dr. Harald Schwalbe ▪ Ph. D in Medicinal Chemistry: Marie curie early stage, Frankfurt am Main; Germany (with the highest distinction 1.0, magna cum laude) ▪ Thesis title: Design, Synthesis, and Evaluation of Novel c-MYC G-Quadruplex Stabilizing agents ▪ Published research finding in ChemMedChem, research paper entitles as " Synthesis and in vitro evaluation of novel 5-nitro indole derivatives as c-Myc G-Quadruplex binders with anticancer activity " ▪ Advanced knowledge of field continuously through personal coursework and additional study to best help professor and students. ▪ Taught small groups of students focused on specific parts of the coursework. Conducted research in medicinal chemistry for the development of novel small molecules to stabilize GQuadruplex sequence with a team of 6 graduates and with biochemistry and pharmacology faculties. ▪ Mentored students through office hours and one-on-one communication. ▪ Led courses independently with minimal oversight from professors. ▪ Completed paperwork, recognizing discrepancies and promptly addressing them for resolution. ▪ Supported advanced field research by assisting with experimental design, execution, and results tracking.
April 2014 - June 2015 Project Associate Medicinal Chemistry | University of Le Havre, France Supervisor: Prof. Dr. Adam Daïch ▪ Project title: Development of new pathways via Friedlander reaction, Click Chemistry, and Metal-Catalyzed reactions to functionalized Azaindole as promising platforms for the medicinal chemistry modulation and Immunological assays for antitumor activity. ▪ Developed small molecules selected by National Cancer Institute for 60 cancer cell line screening and for mechanistic investigations. ▪ Conducted research, gathered information from multiple sources, and presented results. ▪ Participated in continuous improvement by generating suggestions, and engaging in problem-solving activities to support teamwork. ▪ Developed team communications and information for meetings. ▪ Delivered all selected small molecules to NCI united states locations within specific timeframes.
October 2012 - March 2014 Research Assistant Medicinal Chemistry | CSIR, IICT, Hyderabad Supervisor: Prof. Dr. Ahmed Kamal ▪ Project title: Synthesis and characterization of PBD Based intercalating agents and novel tubulin polymerase inhibitors ▪ Gain expertise in drug design and modern synthetic techniques and methodologies ▪ Gain experience in scientific writing and publishing of manuscripts in the international medicinal chemistry journals
Bildung
Academic Credentials: 
Ph. D: Medicinal and Pharmaceutical Chemistry     06/June/ 2020 
Department of Organic Chemistry Goethe University - Frankfurt am Main, Germany ▪ Thesis: " Design, synthesis and biological evaluation of novel G-Quadruplex Stabilizing small molecules ▪ Relevant Coursework Completed: GLP & GMP guidelines ▪ Awarded Marie Curie Early Stage Research Fellowship ▪ Awarded BMLS achievement certificate for Ph.D. Research 
M.S (Pharm): Medicinal and Pharmaceutical Chemistry 08/August/ 2012
 Department of Medicinal Chemistry, NIPER Hyderabad, India ▪ Thesis: " Design, synthesis and biological evaluation of Novel Soluble Epoxy Hydrolase Inhibitors for antiinflammatory Effects" ▪ Gained knowledge in Medicinal Chemistry and Drug designed strategies ▪ Participated in drug discovery workshops and seminars ▪ Received NIPER research assistantship and GPAT fellowship ▪ Researched on Soluble epoxy hydrolase inhibitors 
Bachelors in Pharmaceutical Sciences, Nagpur University, India      08/August/ 2010 
▪ Gain knowledge about the basics of Pharmaceutical sciences ▪ Learned about Pharmaceutics, Pharmaceutical Chemistry, Pharmaceutical Analysis, Pharmacology, and Pharmacognosy
Fachkräfte aus demselben Pharmazeutische Industrie / Biotechnologie-Sektor wie Vijay Nimbarte
Fachleute aus verschiedenen Bereichen in der Nähe von Heidelberg, Stadtkreis Heidelberg, Karlsruhe
Andere Benutzer, die Vijay genannt werden
Jobs in der Nähe von Heidelberg, Stadtkreis Heidelberg, Karlsruhe
---

Abax GmbH

Ludwigshafen am Rhein, Deutschland

Für ein weltweit agierendes Pharmaunternehmen in Ludwigshafen suchen wir aktuell einenPharmacokinetic Scientist NCEs (m/w/d), Biotechnologe (m/w/d), Naturwissenschaftler (m/w/d) in Vollzeit. · Bonusz ...

---

HMS Analytical Software GmbH

Heidelberg, Deutschland

Über uns · Unsere über 30-jährige Erfolgsgeschichte im Software Analytics-Bereich zeigt: wir sind hochspezialisierte Experten, wenn es darum geht, datengetriebene Geschäftsmodelle zu schaffen. Durch d ...

---

ABAX GmbH

Ludwigshafen, Deutschland

Pharmacokinetic Scientist (m/w/d) Für ein weltweit agierendes Pharmaunternehmen in Ludwigshafen suchen wir aktuell einen Pharmacokinetic Scientist NCEs (m/w/d), Biotechnologe (m/w/d), Naturwissenschaf ...