Where do we go from here?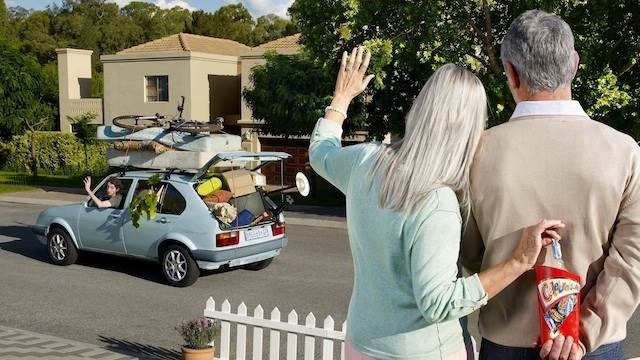 To all those who have grown their children, when they finally start their own lives, it uses to come to this question. Growing a child or more it's a lifetime hard work which can lead us to a huge emptiness once is done, if we forget some undeniable truths:
-Children do not belong to us, though we have the responsibility to help them finding their own way, to protect them.
-We cannot live our children's lives, nor can't they live ours.
-We cannot put aside our own individuality or our life with our wife/husband.
We cannot wait until they are gone to going on building our own life, ourselves.
I found very appropriate the lyrics of this Alan Parsons song:
"Games People Play"
Where do we go from here now that all other children are growin' up
And how do we spend our lives if there's no-one to lend us a hand
I don't want to live here no more,
I don't want to stay
Ain't gonna spend the rest of my life,
Quietly fading away
Games people play,
You take it or you leave it
Things that they say,
Honor Brite
If I promise you the Moon and the Stars,
Would you believe it
Games people play in the middle of the night
Where do we go from here now that all of the children have grown up
And how do we spend our time knowin' nobody gives us a damn"
Written by Alan Parsons, Eric Woolfson • Copyright © Universal Music Publishing Group
Alan Parsons Project Games People Play With Lyrics HD

It is us who need to figure out how we are going to spend our lives after being parents.
Because this is the most important last lesson we can give our children.
Diese Stellen könnten Sie interessieren
---

heyData GmbH

Berlin, Deutschland

Ganztags

Über diese Position · Du suchst nach einer einzigartigen Gelegenheit, deine Karriere in der Welt des B2B SaaS Product Marketings zu starten und gleichzeitig mit einem coolem Team zusammenzuarbeiten? D ...

---

Stanley Black & Decker

Saarbrücken, Deutschland

Ganztags

Aufgaben · Du entwickelst neue, innovative Gartengeräte unter Einhaltung nationaler und internationaler Normen und Richtlinien. Ausgehend von einer Idee konzipierst und konstruierst du handgeführte W ...

Gefunden in: Talent DE C2 - vor 4 Tagen

---

Stanley Black & Decker

Lahnau, Deutschland

Stanley Black & Decker ist mit über 54.000 Mitarbeitern der weltweit führende Anbieter für Werkzeuge und Zubehör, elektronische Sicherheitslösungen sowie Befestigungslösungen mit nachhaltigem profitab ...