Opportunity: A two components issue
"If only I had an opportunity, it surely would change my entire life for good"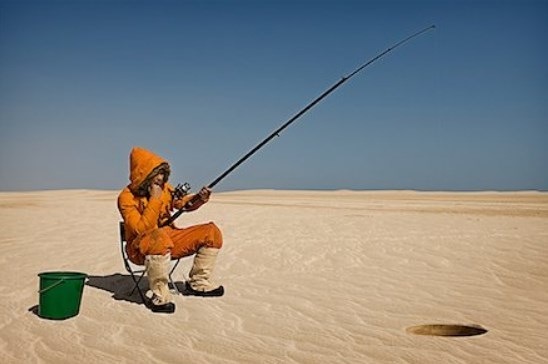 Everybody has had this thought at least once.
For some people though, this thought is occupying their minds permanently, whilst letting their lives flow at its own will.
Even if an opportunity is obviously presented at their sight, they might not take it if it implies they need to take some action which could take them out of their comfort zone.
First component: You and your circumstances
For the ones who claim as theirs the opening sentence of this post, there is something obvious they cannot ignore: Change.
To have an opportunity, a change needs to happen. Sooner or later.
If you are an expert fisherman, who lives in the middle of the desert, and wants to get a job, you will need to change yourself or the place you live.
Still, there are many "fisherman in the desert" who sit on their butts and complain why they don't get any opportunity. 
"Life is not fair", they say.
Well, congratulations, you have finally understood: Life is anything, but fair.
"When it is obvious that the goals cannot be reached, don't adjust the goals, adjust the action steps"


Confucius
Setting the goal
To get an opportunity, there are 3 steps you need to take:
A.-Be realistic. The majority of the people deny some obvious realities. No matter if you are an expert fisherman. There are no fishes in the desert.
B.-Make a mental picture of what you really want.
One can think that this is easiest part. It's not.
There is a big difference between what we don't want and what we really want.
It is not enough not being satisfied with the life you have now.
If you don't like raincoats or being wet, the smell of the fish or the movement of a boat, you better change your goal, as this is what you are going to get if you still want to be a fisherman.
C.-Get ready for it.
Once you have the "picture", eliminate what is doesn't fit to it, and add what it does.
Second component: The chances
I like to compare it with jumping the rope (or skipping the rope)
Please have a look at the video
Anybody has the chance to get into it, so why not you?
The "roulette wheel" of life has its own speed or cadence, like in jumping the rope.
You can be a very skilled "rope jumper", but if you do not enter in the appropriate time, you will fail.
There is a moment to jump in, and surely, there is a time to jump out, like everything in life.
Before taking a chance, you need to preview when is the right moment to jump in, how are you going to jump out, and if so, when is the best timing to do it.
Multiply your chances
Like in a roulette wheel, if you only bet for one number out of 37, you have not many chances to win.
Willing to be a fisherman, if you just aim to fish Alaskan king crabs, you have a very limited number of chances. If you are open to fish any kind of fish, all the seas and rivers of the planet will be a chance for you. Even a fish bowl.
If you don't know the "market", it can be useful to be alert about other successful people who do the same you do, and copy their behaviour.
If with what you do,
-you don't enjoy
-you don't put passion on it, or
-it doesn't satisfy you
Stop doing it.
Life is too short to waste it on unworthy things.
If you are tired not to catching any fish in the desert, 
Don't insist : 

Is time to change.

Image credit: Found in internet (unknown)
Diese Stellen könnten Sie interessieren
---

Agentur: Förster-Huang GmbH

Cuxhaven, Deutschland

Employee

Als Partner deutscher und internationaler Reedereien, sowie Werften und Klassifikationsgesellschaften sind wir auf die wichtigsten Personalbelange der maritimen Wirtschaft spezialisiert. In dieser Eig ...

---

Herrmann Ultraschalltechnik GmbH & Co. KG

Karlsbad, Deutschland

Ganztags

Über das Unternehmen · Als Spezialist im Ultraschallschweißen von Kunststoffen, Packstoffen, Vliesstoffen und Nichteisenmetallen entwickelt Herrmann seit über 60 Jahren sichere und effiziente Schweißs ...

---

Deutsche Bank

Frankfurt am Main, Deutschland

Ganztags, Ganztags

Job Description: · Teambeschreibung und RollendetailsWir suchen für den Bereich Technology, Data & Innovation (TDI) / New Banking IT für den Tribe Shared Components eine/n Lead Engineer Backend (m/w ...